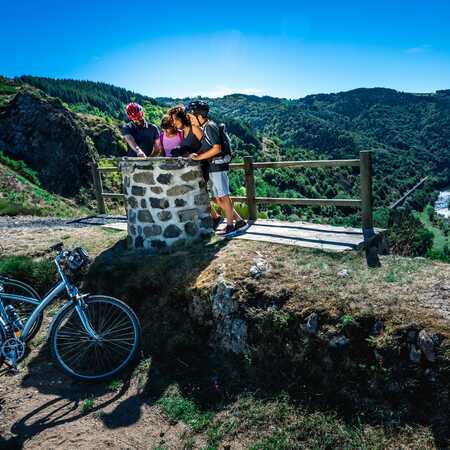 Table d'orientation d'Alleyras © Alba Photographie - Auvergne-Rhône-Alpes Tourisme
south
All you need to know before setting off
Frequently Asked Questions about the Via Allier
Contents
---
Is the Via Allier cycle route difficult?
The Via Allier cycle route generally leads you along quiet roads that are shared with motorized vehicles. Shifts in altitude are not significant as far as Pont-du-Château, but south of there, the route gets steeper. Stretches of greenway are being added bit by bit, with the Billy-Saint-Yorre greenway already laid out at time of writing. In general, the route is suitable for regular cyclists between Nevers and Pont-du-Château, but more fitted to seasoned cyclists along the final section, given the steepness. ⇪
How much time does the Via Allier take to cycle?
The Via Allier cycle route is 435km long between Nevers and Langogne. Beginners, to complete the entire route, count between 8 and 14 days, or b etween 30km and 60km per day, seasoned cyclists, around 7 days, meaning riding 60km to 90km per day. ⇪
What to budget for?
The size of your budget will, essentially, depend on the type of accommodation you choose. For a double room in a mid-range hotel or B&B, count €60-€70 a night. Camping provides the cheapest option. ⇪
Where to stay?
You can find a choice of accommodation along the cycle route. Establishments awarded the Accueil Vélo label guarantee services geared to cyclists, notably with a locking shelter provided for your bike(s). Certain stages offer fewer choices of accommodation than others, so do think to reserve rooms in advance if possible. You'll find at least one campsite listed for each stage on our website. ⇪
Can I take my bike on regional trains? 
In general, TER regional trains allow you to transport your bike for free on board, without needing to book a space in advance. For Intercités and TGV high-speed trains, you do need to book a spot for your bike in advance (€10 at time of writing).  ⇪
Can I return to the cycle route's starting point by train ?
Oui, une fois à Langogne vous pouvez revenir en train à Nevers avec un changement obligatoire à Clermont-Ferrand. Compter environ 5 h de trajet.⇪
What type of bike to choose?
The Via Allier cycle route is almost entirely on small tarmacked country roads. Most types of bike are suitable for this route, including road bikes. ⇪
Some specifics on different types of bikes:
Hybrid and touring bikes are perfectly suitable for the Via Allier cycle route
An e-bike (Vélo à Assistance Électrique, or VAE, in French) would make a good choice across the whole route, but would be particularly useful on the section covering the Allier Gorges (in the French county, or département, of Haute-Loire), the steepest part of the route.
A road bike will do perfectly fine along the whole route, even if the section of greenway between Billy and Saint-Yorre has a compacted sandy surface. The Via Allier cycle route leads you along quiet country roads that are sometimes used by farm vehicles.
A gravel bike – opt for tyres that make for easy riding. 
A mountain bike (VTT in French), if fitted with wide, deep-tread tyres, is not the most effective way to ride this route, so consider changing the tyres to ones better suited to smoother road surfaces. ⇪
Where to find recharging points for your e-bike?  
You'll need to recharge your e-bike battery at the places where you stay. Also make the most of lunch stops to try and recharge your battery at least partially if possible. In campsites, you can use electric recharging terminals. Make sure you have the necessary recharging socket before starting on your route. Otherwise, for the time being, there are no other e-bike recharging points along the route. ⇪
Is the Via Allier cycle route signposted?
Yes, signposting along the Via Allier cycle route is in place between Nevers and Langogne. It may differ slightly from one French county, or département, to another. At all events, you need to follow the green and white signs giving directions. The logo and the route's identification number (V70) may also sometimes be given. You can go to the stage descriptions to find out more about more precise directions to follow. ⇪
Are GPX tracks available?
The overall .GPX tracks for the Via Allier cycle route are available here. You can also download the tracks for each stage from the pages presenting the various stages. ⇪
What app(s) to use?
Once you've downloaded the .GPX tracks, you can make use of a dedicated app to follow your progress along the route on your smartphone. Our website is easy to use on your smartphone, with a geolocation function available on the cycle route maps. ⇪
Is there a guidebook covering the Via Allier cycle route?
At time of writing, there is no paper publication describing the whole route. A Carnet de route 30 pages in length, with detailed maps of the stages at a scale of 1:100,000, will be available in French from end June 2022, but only in PDF format. You'll be able to print out the pages that interest you at home. A guidebook published by éditions Glénat covering the Auvergne does feature details on the cycle route between Pont-du-Château and Brioude. ⇪
Is there a map of the Via Allier cycle route? 
We do not have documentation that we can send out by post. Please note that all the relevant information on the Via Allier is presented on this website and via our social network accounts. You can also download the route's general introductory map and download .PDF files of all the stages via our website. ⇪
Did you like this?
You may also be interested in this...