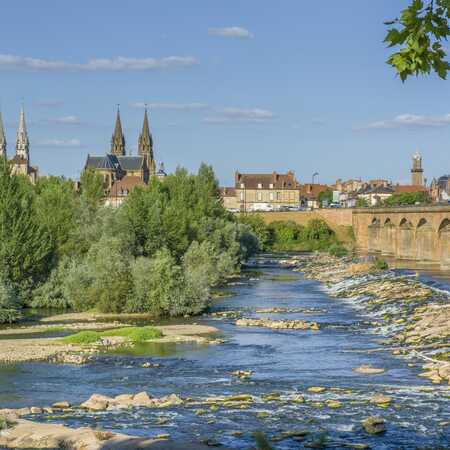 Moulins, sa cathédrale, son pont et l'Allier © Luc OLIVIER - CDT Allier.jpg
south
Ready! Steady! Party!
De Moulins à Saint-Pourçain
The Allier, one of Western Europe's last-remaining great wild rivers, has managed to preserve its free, ever-shifting character. The Allier River has shaped a mosaic of different environments along its meanders around these parts, especially south of Moulins, an area that merits in-depth exploration. Leaving from Moulins, the Via Allier allows cyclists to get to the Réserve Naturelle Nationale du Val d'Allier, an exceptionally unspoilt Eden covering 1,450 hectares. After a little climb through Moladier Forest, you come to an area of bocage bourbonnais, with typical hedge-divided fields, before the first vines of the Saint-Pourçain wine-producing area appear, adding another aspect to the journey.